Antisemitic Beliefs Are At Their Highest Levels in Decades.
Yad Vashem's "Book of Names" is a haunting reminder of the ultimate effects of antisemitism.
Bronia Rubin Brandman was twelve when she and her three sisters were sent to Auschwitz. When they arrived, Josef Mengele, a Nazi known for his extraordinary cruelty, pointed his white-gloved hand to direct her older sister, Mila, then 20, to a separate line. Without thinking, Bronia ran after her. Their younger sisters, along with all of the other children, were marched from the cattle car to the gas chamber.
Bronia had escaped death once already. A year earlier, the Jews of Jaworzno, her hometown in Poland, were commanded to report to the schoolyard. Her older brother, Mendek, had been sent to a slave labor camp. Mila and their younger sisters had escaped to a nearby town. Bronia, her brother, Tulic, and her parents reported to the schoolyard, which was surrounded by soldiers with dogs. When they arrived, realizing they were all marked for death, her mother whispered to Bronia to run. If she ran, Bronia thought, she would surely be shot. Quietly separating herself from her family, she slowly walked away from the schoolyard. She knew she would never see her parents or her brother again.
Habits of a Free Mind is a reader-supported publication. To receive new posts and support my work, consider becoming a free or paid subscriber.
Everyone in the schoolyard that day was sent to the gas chambers. Jaworsno was declared "Judenrein." Cleansed of Jews. A year later, the four sisters, along with the remaining Jews of the neighboring town, were sent to Auschwitz. That town, too, was declared "Judenrein."
In the years leading up to the war, the antisemitic German newspaper, Der Sturmer, created children's books to teach children antisemitic conspiracy theories and tropes. "Money is the god of the Jews." The Jew is "a swindler and criminal" one book taught. "He who fights the Jews battles the Devil." 
Antisemitic schoolchildren called Bronia a "dirty Jew" and told her to "go back to Palestine." By the time her family was taken away, she had seen Jews marched to a synagogue where they were burned alive. She'd seen others slaughtered and hung on meat hooks.
Bronia, now 91, and her brother, Mendek, survived. Mila did not. Her name, along with the names of Bronia's younger sisters, her brother, Tulic, her parents, her mother's eleven siblings, and dozens of other relatives are inscribed in Yad Vashem's Book of Names, an exhibit containing the names, birthdates, hometowns, and places of death of 4.8 million of the approximately 6 million Jews murdered by Nazis and their collaborators. A thin shaft of light illuminates each page, and blank pages at the end symbolize the people whose names have not been recorded. On loan to the United Nations until February 17, the installation was inaugurated on January 27: International Holocaust Remembrance Day.
"Inaugurating The Book of Names at the United Nations Headquarters on the eve of International Holocaust Remembrance Day is extremely significant and poignant," said Yad Vashem Chairman Dani Dayan, "especially in light of the alarming growing global trends of Holocaust trivialization and distortion as well as antisemitism."
On that same day, seven Jews were murdered in Jerusalem outside a synagogue. The terrorist, a 21-year-old Palestinian man, was shot and killed by police. His parents celebrated and handed out sweets. His father described "a joy equivalent to the joy of marriage."
Two days later, another terrorist in Jerusalem shot and wounded a Jewish father and son. That gunman was a 13-year-old boy. In his school notebook he'd written "Forgive me mother, you're going to be proud of me."
The adolescent terrorist and the parents of the dead terrorist will likely receive salaries several times the average Palestinian wage. Those who murder Jews, and parents of dead terrorists, are rewarded through the Palestinian Authority's "Martyr's Fund." More than $175 million went to such murderers in 2021.
Like in Nazi Germany, Palestinian children and their parents are bombarded with antisemitic messages. On a 2022 television program, an antisemite introduced as an academic tells an interviewer that Jews were "murderers and schemers" who "constituted criminal gangs" and were a "nuisance" for Europe. So the British sent the Jews to Palestine. Jews, he declares, will be killed and buried in Palestine, or, echoing the Nazi rhetoric Bronia heard as a child, they can "go back to Europe."
Children are even indoctrinated in their schools to murder Jews. A 2022 analysis of Palestinian school materials found rampant antisemitism and encouragement to violence. Judaism is presented as a racist religion. Jews are depicted as "impure," "inherently treacherous," and "hostile to Islam and Muslims." Children are taught that Israel is a "colonial entity created by European colonialism to divide the Arab world." The massacre of Jewish athletes at the 1972 Munich Olympics is described as heroic "resistance" to "Zionist interests abroad."
All references to concentration camps and the murder of Jews are omitted from lessons on WWII. And children are taught that Jews are corrupt liars who control the media, politics, and finances, are "in control of global events through financial power," and are "enemies of Islam at all times and places." No information is presented about Israel's attempts to broker peace since the Oslo Accords. There are "hundreds of extreme examples," the report says, in "all classes and on all subjects."
There are certainly many Palestinians who oppose teaching children to feel disgust and hatred toward Jews, and to aspire to become murderers ("martyrs"). But antisemitic educational materials do tremendous damage to the children who consume them as well as to the Jews who become their victims. And they are distributed by the U.N. Relief and Works Agency for Palestinian Refugees (UNRWA).
"Antisemitism is rearing its ugly head all over the world," Bronia despairs. "It's on the streets, in the media, and in the halls of Congress."
The past several years have seen a dramatic increase in antisemitism. Anti-Jewish conspiracy theories have been amplified not only by influential artists like Kanye West and athletes like Kyrie Irving, but by politicians like U.S. Representative Ilhan Omar. Omar has played into stereotypes about Jews and money as well as conspiracy theories about Jews as sinister puppeteers controlling governments and even engineering wars, claiming Israel was "hypnotizing the world" and that American politicians were being paid to be pro-Israel,
In a recent CNN interview with Dana Bash, Omar admitted to trafficking in antisemitism, but claimed she "wasn't aware of the fact that there are tropes about Jews and money," a statement that has been widely mocked. But she may be telling the truth. Perhaps it is not possible for people to recognize their own antisemitism when they believe antisemitic conspiracy theories are true.
This may be why many Jews are frustrated by what appears to be dismissiveness toward antisemitic rhetoric and beliefs. According to the ADL, antisemitic beliefs are at their highest levels in decades. An ADL Center for Antisemitism Research study released in January found that one in five Americans believe that Jews (who make up less than 3% of the U.S. population) "have too much power in the United States today." Eighty-five percent of Americans believe at least one anti-Jewish trope, up from 61% in 2019. And 20% of Americans believe six or more antisemitic tropes. That number was 11% in 2019.
"I am very afraid it is happening again," Bronia told me. "The world was totally indifferent to what was happening then. And they are indifferent now." ♦
A different article telling Bronia Brandman's story will appear at PsychologyTodayBlog.com.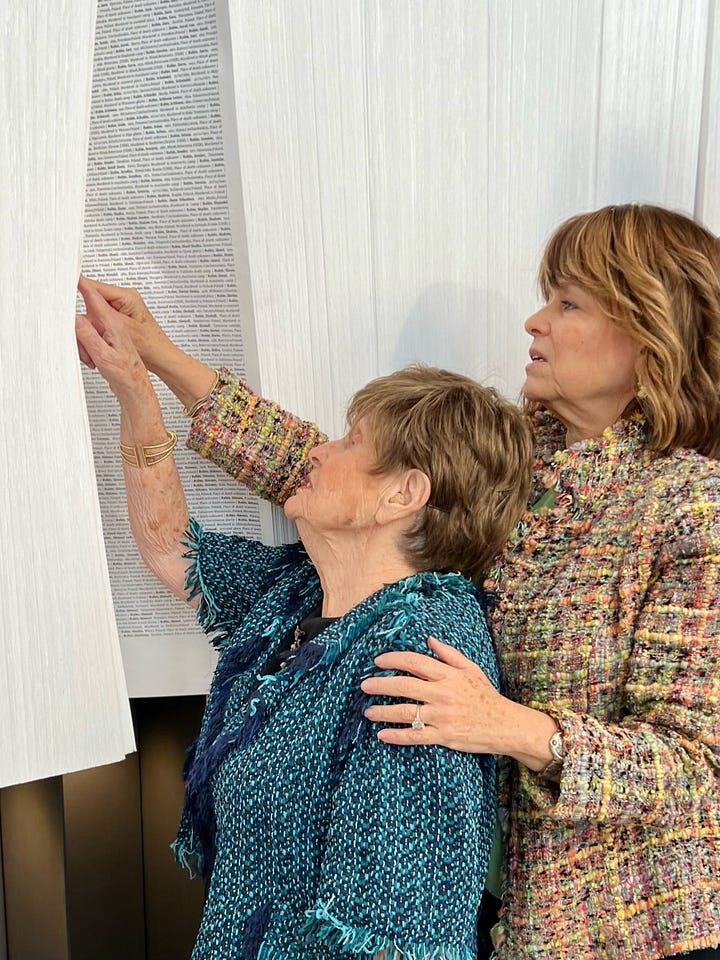 Habits of a Free Mind is a reader-supported publication. To receive new posts and support my work, consider becoming a free or paid subscriber.